Highlights
I hold a Master of Arts in American History from George Mason University and am full-time member of the Army National Guard serving as a battalion commander in the South Carolina Army National Guard.
email: carl.allard.young@gmail.com.
Education
Joint Planner and Army Strategist certificates from the Joint Forces Staff College and the United States Army War College.
Graduate certificates in the Department of Defense's Chief Information Officer and Information Assurance at The National Defense University, Washington, DC.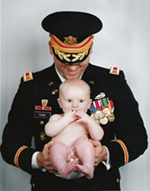 MA in American History at George Mason University, Fairfax, VA
BA in History and Government at Wofford College, Spartanburg, SC
International Relations and European History at the University of Amsterdam, Amsterdam, Netherlands
Information Systems Management at Army Leader College for Information Technologies, Ft. Gordon, GA
Strategic Studies at Command and General Staff Officer's College, Ft. Lee, VA
Army Force Management at Army Force Management School, Ft. Belvoir, VA
Signal Officer's Basic and Advanced Courses, Ft. Gordon, GA
Experience
I have served in the Army National Guard for over twenty-one years and presently serve at the rank of lieutenant colonel in the Army Signal Corps. I am a veteran of Operation Iraqi Freedom, serving in Kuwait and Iraq during the initial invasion from 2003 to 2004.
Prior to my time on active duty with the National Guard, I co-owned Carl Douglas & Associates, LLC with Douglas Williams where we specialized in industrial databases and customized reporting systems.
I have also been trained as a Lean Six Sigma Blackbelt, focusing on production efficiency management and quality control analysis. I am also an Army Information Systems Management Officer specializing in Information Technology, Knowledge Management, and Network Engineering and Security.
Career History
Commander, 151st Expeditionary Signal Battalion, Spartanburg, SC
Joint Planner, J5, Joint Chiefs of Staff, Washington, DC
Chief, IT Policy and Governance, Army National Guard, National Guard Bureau, Arlington, VA
Enterprise Architect, Army National Guard, National Guard Bureau, Arlington, VA
Force Management, Army National Guard, National Guard Bureau, Arlington, VA
Plans and Operations, 228th Signal Brigade, South Carolina Army National Guard, Spartanburg, SC
Logistics, 151st Signal Battalion, United States Army, Kuwait and Iraq
Operations, 11th Signal Brigade, United States Army, Kuwait
Training, 228th Signal Brigade, South Carolina Army National Guard, Spartanburg, SC
Adjunct Professor (object-oriented programming), Greenville Technical College, Greenville, SC
Partner, Carl Douglas and Associates, LLC, Spartanburg, SC
Professional Associations

(ISC)2 - Certified Information Systems Security Professional
Armed Forces Communications and Electronics Association
Signal Corps Regimental Association
Hobbies and Interests
I enjoy new technology, low flying, smooth sailing, great books, fast cycling, bad golf, and slow fishing